How to
Best SEO Tools for Bloggers Looking to Increase Traffic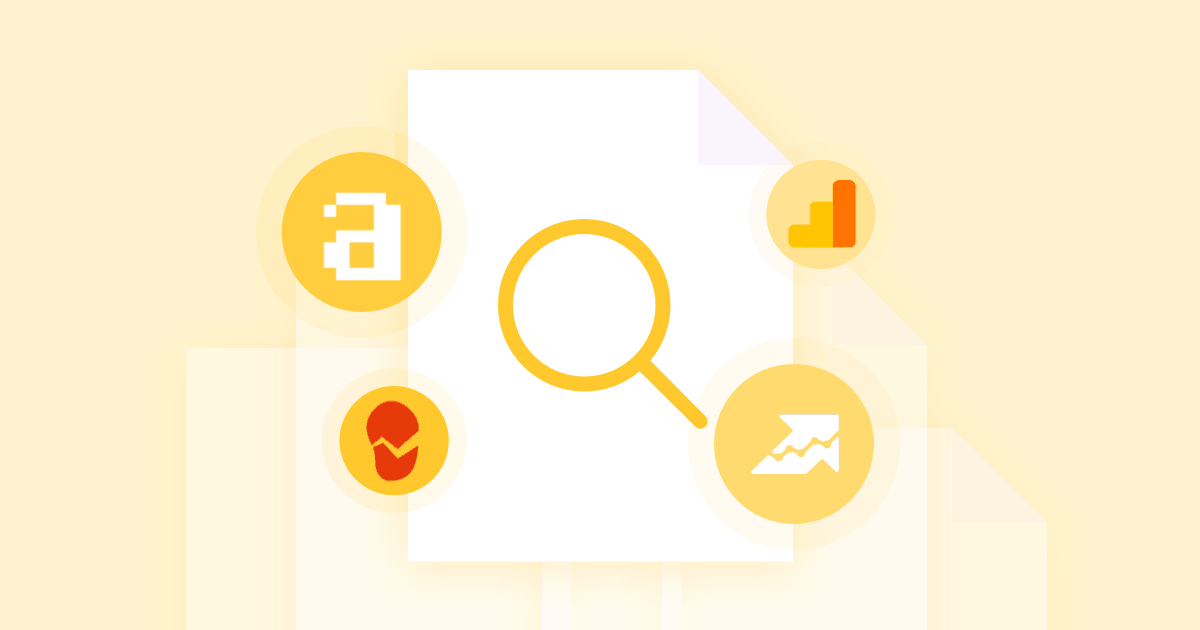 Running a blog is serious business. Gone are the days when you can log in and write about whatever topic tickles your fancy. These days, deep analysis and ongoing strategy refinements are necessary to stay ahead of your competition.
Fortunately, you're not alone. There are countless tools you could use to research keywords, perform site audits, analyze the competition, and more. Any of the tools below can help you reclaim a lost rank or climb on top of the search engine results page. So here's our list of the 12 best SEO tools for bloggers.
#12 – Google Analytics by MonsterInsights
Sometimes the simplest tools are the most useful. If you've ever tried manually inserting or updating the Google Analytics code into your site, you know how frustrating it can get over time. Every little change or addition requires a new copy-paste, and if something goes wrong, you lose a tremendous amount of data, including traffic and search phrase tracking.
The Google Analytics WordPress plug-in by MonsterInsights does one thing and it does it well. Installing this on your site instantly populates every page on your publication with your custom Google Analytics code. There's no need to configure anything, just slide it into the settings page and you're set.
Along with basic insertion services, MonsterInsights also lets you leverage Google Analytics' more powerful features, including engagement tracking, file downloads, affiliate links, and RSS feed clicks. You can even view most of these reports directly in your WordPress dashboard with an upgraded MonsterInsights plan.
Tool Type: Analytics monitoring
Price: Free with plan upgrades
#11 – Readability Test Tool
In the SEO world, things like keyword density and backlinks tend to get the lion's share of attention. But at the end of the day, what really matters is whether or not people find your content interesting and informative. The best way to reach a wider audience in this arena is to focus on readability, or making your content as digestible as possible so that visitors, both young and old, native or foreign will want to spend more time on your site.
The Readability Test Tool is a quick and simple service that analyzes the content of your site and spits out a results score that shows the youngest age of reader who could read and comprehend the content. A grade level of 4, for example, could be easily understood by 9-10-year-olds. Ideally, you'll want to aim for grade levels between 6 and 8, but as long as you don't creep too high, you'll do just fine.
The Readability Test Tool is a final stage service that lets you put the finishing touches on any piece of written content. By drawing in a wider audience with less technical jargon, shorter sentences, and more direct language, you'll increase the engagement rate and encourage visitors to stick around and read a few more pieces of content before clicking away.
Tool Type: Text analysis
Price: Free
#10 – KWFinder
It doesn't matter what type of content you create or how far your social media reach extends, one thing all bloggers obsess over is SEO difficulty. Should you go after the long tails with a low impact but less competition? How about aiming for the high end and duking it out with the big publications? There's no single answer for this quandary, which is why services like KWFinder are so crucial to your success.
KWFinder is an easy to use SEO research tool that aims to deliver the perfect keywords straight to your screen. It analyzes backlink quantity (among other things) for any given phrase to help determine the overall difficulty of those keywords, giving you an idea of how much time and effort you'll need to spend to capture a piece of that SEO pie. With that information in hand, you can continue your research with the company's other tools, including SERPChecker and LinkMiner.
Long tail keywords are the hidden gems of the SEO world. KWFinder helps you uncover the right ones for your business so you can spend less time fretting and allocating more time to reaching success. It also has an extremely user-friendly interface, which is always a nice touch.
Tool Type: SEO keyword difficulty researcher
Price: Free with plan upgrades
#9 – Serpstat
A powerful all-in-one SEO service that does everything from keyword research to link analysis. Serpstat offers a broad range of standard SEO tools just about everyone will find handy, including long tail keyword research, cost per click analyses, PPC competition insights, and search volume analytics.
Arguably Serpstat's most useful feature is performing thorough audits of any website, right down to lost backlinks and keywords themselves, and it's all completely automatic. This audit includes pinpointing website loading speed issues and suggesting improvements for reclaiming that lost time. It also identifies redirect issues, looks for duplicate content, and hunts down both broken links and lost backlinks.
Serpstat has a lot going for it, including a prestigious list of enterprise clients that use the service to refine their SEO strategies on a daily basis. It's also extremely easy to use, and it comes with one of the better free trials in the business.
Tool Type: Site audits; keyword, backlink, and competitor research
Price: Free use-limited trial with paid subscription upgrades
Presslabs Fact
Did you know that you can keep an eye on your site loading speed directly from the Presslabs dashboard? We provide detailed performance metrics for all our customers.
#8 – BuzzSumo
Once you've done your research on SEO topics and chosen a few focal points, your next step is to make up some titles and start creating content. Or… is it?
BuzzSumo is a clever tool that helps refine your SEO efforts even further. Instead of racking your brain for viable keyword-based topics, you can use BuzzSumo to look for highly-shared content on social media and shape your efforts based around that.
With one quick search, you can see what content is trending on Facebook, Twitter, Pinterest, and Reddit, complete with engagements, backlinks, and the total number of shares. This takes a lot of the guesswork out of coming up with topic titles, as you can simply use the popular suggestions to inspire better targeted phrases.
Tool Type: Content title research; SEO keyword refinement
Price: Feature-limited free trial with pro plan upgrades
#7 – Moz Tools
Moz has long been one of the best resources for SEO insights on the web. Bloggers use it to learn tricks of the trade while refining their strategies for content creation success. The team's SEO for Beginners is practically the handbook for starting SEO strategies, serving as a launch point for new entrepreneurs dipping their toes into the world of online content publishing.
Moz Tools is a collection of free resources for link building and analysis, webpage performance, keyword research, site metrics, listing audits, and more. The star of the show is the Keyword Explorer, one of the largest and most accurate SEO phrase databases on the web. In a matter of seconds, pro bloggers can use it to discover and prioritize keywords for their site. No complicated charts to analyze or stats to sift through, just straight-up SEO recommendations by the boatload.
Moz offers a plethora of tools bloggers can use to up their SEO game. Most of these are offered for free with minimal limitation. Moz Pro delivers the entire SEO toolset with higher limits and more advanced features. When you're ready to get serious about your SEO game, Moz has the tools you need to succeed.
Tool Type: SEO keyword research
Price: Free, with a premium version
#6 – Netpeak Spider
Many SEO tools focus on keywords, link building opportunities, organic search, backlinks and so on, but what about the content you already have on your site? You might be surprised how many issues your site has that you weren't even aware of.
Here is where Netpeak Spider comes into play. Just like a search engine robot, it crawls your site's URLs and performs a detailed audit of the SEO problems it encounters. The issues are grouped into 3 categories, based on their severity degree for SEO: errors, warnings, and notices, thus indicating which ones you should tackle first.
The Spider checks website optimization issues, analyzes incoming and outgoing internal links, finds broken links, duplicated content and canonical issues, missing titles and descriptions, links with bad URL formats, dead-end pages, pages blocked by the X-Robots-Tag and many more.
You can crawl your entire website, a certain page or set custom rules to crawl only a certain part of your site and you also have the possibility to save or export your data to work on it later.
Netpeak Spider is a desktop tool that for now only works on Windows platforms, but they have plans to make it available on Linux and macOS soon.
Tool Type: SEO crawling analysis
Price: free use-limited trial with paid subscription upgrades
#5 – Yoast SEO
Pro WordPress bloggers around the world swear by Yoast SEO. This multi-purpose tool works as a fast and free WordPress plug-in to analyze and suggest improvements to every post and page on your site, including live guidance as you add new content. Are your titles too long or short? Yoast will let you know. Keyword density too forceful? Yoast will catch it before you hit the publish button.
The biggest benefit of using Yoast is the ability to fine-tune your SEO strategy down to the microscopic level. The tool keeps a sharp eye on readability while suggesting tweaks you can make to take your SEO writing to a new level. Coming up with keyword and content plans is difficult enough, why should you struggle when it comes time to push content live?
Along with its per-post features, Yoast SEO also keeps an eye on sitewide concerns that can cripple your SEO rank. Duplicate content and breadcrumb errors practically become a thing of the past. And even if you're not familiar with sitemaps, robots.txt files, or best practices for permalink URLs, Yoast can guide you towards the light without overwhelming you with technical details.
Yoast SEO is probably the best overall tool you can use to improve your blog's SEO. It's worth it for the writing insights alone, but when you add things like site tweaks, search previews, and keyword optimization, you practically can't live without it.
Tool Type: SEO optimization for websites and individual blog posts
Price: Free and premium versions
#4 – Majestic
The Majestic SEO toolkit is a multi-purpose backlink checker, site explorer, and all-around link profiler. Majestic doesn't just give you insights into your own blog's statistics, it also serves as a spy of sorts into your competitor's backlinks situation. After all, what better way to get ahead than to copy and improve upon your peers?
Majestic's toolkit includes everything from a site explorer to flow metrics, domain comparisons, and keyword checkers. Most of this is fairly standard stuff as far as SEO services are concerned. Where Majestic really stands out is the quality of its link analysis. The site has crawled nearly 500,000,000,000 unique URLs, providing historical data as far back as 2013. This allows you to check and track the backlink history of any given domain, which is something few, if any, competing tools can do.
Tool Type: Analyze on- and off-site links
Price: Free with pro upgrade options
#3 – Ahrefs
Once your blog is established and stable, the next thing on your mind should be growth. This area of SEO is arguably the most complicated, as there are countless strategies you can implement to increase outreach, boost keyword rankings, and so on. How do you know which next-step is the right one, and how do you take it? One of the answers could be through constant monitoring along with a little thing called research.
Ahrefs is a powerful research tool that helps you gather information and monitor your blog's niche. It also lets you research competitors to see why they rank so high, giving you insights into what you can do to outrank them. Use Ahrefs to perform a full site audit, then take the resulting information and run with it.
Ahref provides domain comparisons charts, content gap insights, backlink and SERP checkers, keyword generators, and broken link scans. It also allows for content, backlink, and keyword research along with competitive analysis charts and rank tracking for your site. It's a fantastic tool professional bloggers can use to take their site to the next level.
Tool Type: SEO research and performance analysis
Price: Premium subscription
Presslabs Fact
Did you know that you can visualize how accessible your site is to your customers straight from the Presslabs dashboard? The distribution of front-end and back-end responses offers you a keen insight into the availability of your site for both humans and bots.
#2 – SEMrush
It doesn't matter if you're new to SEO or a seasoned veteran, SEMrush is one of the best all-around general purpose tools you can get your hands on. SEMrush does it all, from analytics reports on competitors to keyword research, advertising insights, backlink checking, keyword difficulty, branding reports, and much more. You can even use it to discover new competitors and monitor changes in domains, helping you to stay ahead of the curve.
SEMrush has access to a huge amount of SEO and search data from both Google and Bing, allowing you to research keywords to an incredible degree of detail. It provides all of this data in an incredibly convenient package, as well, complete with full site audits and ongoing tracking. If you only use one tool for your professional blogging business, make it SEMrush. You won't be disappointed.
Tool Type: All-purpose
Price: Premium subscriptions billed monthly or annually
#1 – Cognitive SEO
If you are a SEO professional, and experienced webmaster or a digital marketer, then it's very likely you know about Cognitive SEO and that it offers an advanced all-inclusive SEO toolkit, made in Europe. It does have indeed a steep learning curve, but the promised results are worth the effort.
It provides you with advanced analysis and tracking features, as well as suggestions for improvements and fixes, all packed in a neat interface with interactive charts and descriptions. The tool creators promise that you'll get top rankings in 3 easy steps: Keyword Research, Ranking Analysis and Content Optimization.
Have a glimpse at what you can achieve with Cognitive SEO:
complex site audits for both your site and your competitors

easy to comprehend and visualize data, along with recommendations on how to fix the issues on your site

check for broken links both internal and external

keyword and content optimization; the tool analyzes all your site's pages and posts and provides you with a content performance score, based on keywords, and also with a readability score

in-depth backlinks analysis

detect unnatural links that led to Google penalties

desktop, mobile and local rank tracking for all locations and languages

analyze content visibility based on social shares

check Google algorithm changes – CognitiveSEO tracks how Google rankings fluctuate on a daily basis and provide you with an illustrative chart when you can see when there were significant changes made in SERPs. If you suddenly notice a significant drop for one of your pages, you can check their chart to see if it corresponds with a change in Google's algorithms.

track Google Analytis metrics directly from the Cognitive SEO interface

schedule reports to be send automatically to your clients

Competitor Analysis – uncover the Google visibility of your competition as well as understand their marketing strategies: link building, content marketing strategy and many more
They also offer free limited use for 3 of their SEO Tools: Site Explorer, Keyword Tool and Google Algorithm Changes.
Tool Type:

Complete SEO Software Suite

Price:

Free use-limited trial with premium subscriptions billed monthly or annually
#Bonus: Google Search Console
Google's Search Console should be the first site every pro blogger visits when starting their day. The console provides insights into how Google views your website, everything from clicks to impressions to CTR percentages. It also reports on crawling errors and notifies you if potential problems arise that might negatively affect your SEO rating. Think of it like a safety net, the last line of defense against you and a costly drop in Page rank.
Tool Type: Search engine crawling analysis
Price: Free
#Final Thoughts
There are countless tools on the market that can help you refine your blogging strategy. The services above are great places to start, but don't let them be the end of your research! The more you learn, the better you'll become at the wild and unforgiving practice that is SEO. With a little time and a lot of research, you can find your niche!
Smart Managed WordPress Hosting
Presslabs provides high-performance hosting and business intelligence for the WordPress sites you care about.