Case studies
The Story of a 8-Year Collaboration: a Case Study with Freshome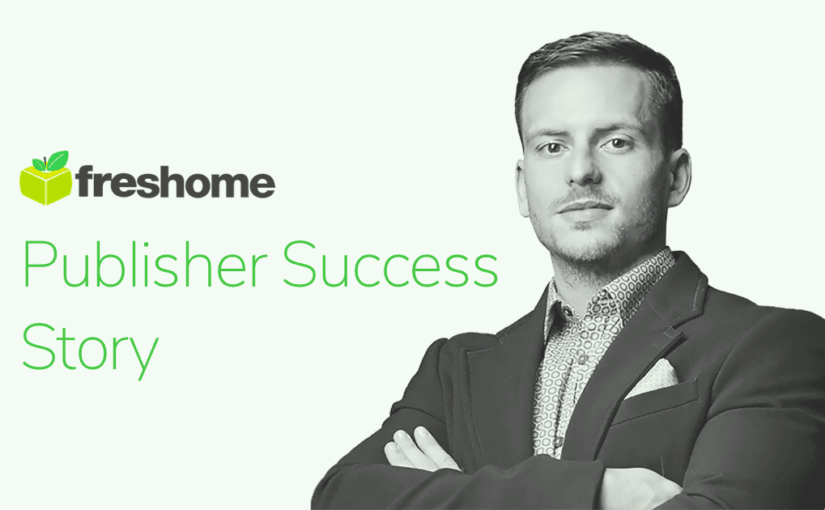 A smooth take off with 30K unique visitors per day was probably easier to accomplish back in 2010 than it is today. Launching a global publishing initiative in interior design and architecture, one of the most competitive, consumer-oriented industries, was, and still is, a challenging thing to do. Yet, good things come to those to stick to their plans. We're talking about Freshome, our third customer in the history of Presslabs which we accompanied on his journey for the past 8 years from an idea to one of the top five publishing brands in its niche.
#The Pursuit for a Good WordPress Hosting Provider
Talking about plans, there are times when even good WordPress hosting providers can't keep the pace with fast growth. In this case, Mihai Micle, Freshome CEO at the time, had made many changes in his attempt to reach a higher website performance and traction—the core WordPress hosting infrastructure has undergone several major changes, from shared hosting and countless upgrades, to dedicated servers and then the necessity to supplement the infrastructure with even more servers.
In each configuration version, Mihai reached the same point: none of the above-mentioned variants could keep up with website traffic outbursts during spikes. An increase of up to 300% in traffic generated downtimes of 3, up to 5 hours. This was a serious issue for Freshome as it impacted its Google ranking, the online community it was fostering at the time, all the paid partnerships and, consequently its revenue streaming from the display ad networks. It simply couldn't scale as a global publishing business without a scalable hosting infrastructure.
What is more, not being reliable also put Freshome at high risk, as Flood, DDos attacks, and other similar hacking events were a fad at the time. It was a complete no-go.
Yet, despite the security and reliability issues did not uphold the client's optimization plans; 100% uptime was not enough. They went for full-speed growth and they needed a WordPress hosting partner to count on and grow with. Freshome CEO & our team shook hands back in June 2010. Although the price was on the upper end of the range, the ROI was truly visible and measurable. And there was room for expansion, too.
#"The Presslabs Effect"
After the migration completed, our Presslabs team ironed out the problems that were keeping the publisher from reaching its full potential:
Strong, custom infrastructure for fast page loading, performance optimization and suitable caching plugins (wp-super-cache), back in the day, before we designed and implemented our own nginx-based caching layer
100% uptime
A sealed security mechanism to assure no chance of raining with hacking events
The much-requested scalability solution to support a yearly increase in website traffic of over 50% and occasional traffic spikes
Decent collaboration terms and mutual value for money
Our previous experience with WordPress software development in a profiled company, Dream Production (yes, we're actually proud of our roots).
Thanks to the Presslabs team, there was no need for me to invest time and energy in acquiring tech know-how or huge investments in building and maintaining an infrastructure, like other competitors in my niche did. I was able to run lean in terms of team size and operational complexity. I could finally focus on growth, advertising, monetization. No more worries about hosting, security, uptime, speed which is essential especially in the growth stage.
said Mihai Micle.
Just to get an idea, here's how the Freshome website traffic looked like back in 2011:
#Heading for Massive Growth
And it didn't stop there. Over the next years, Freshome had huge spikes which sometimes kept us awake at night: over 800.000 unique visitors, coming from Social Media shares of pages such as The New York Times, Kanye West, Rihanna or Louis Vuitton. It was a victory for the both of us, yet each traffic spike was a chance to prove our capabilities and to further consolidate the foundation of our collaboration.
You use a product for 8 years because of its efficiency. It was like the Rolls Royce of web hosting. Once you drive a Rolls Royce, you will never be interested in driving a Volkswagen Golf again
said Mihai Micle, now former Freshome CEO. Cheers to that!
It was quite a journey for both companies. No less than 500+ support emails were exchanged during the first 5 years. It took us a while to shape things straight, but we got it in due time. Mihai recalls:
Since I've started to work with Presslabs, our relationship got better and better, and I had the trust that they always tried to make their own product better and better which ultimately resulted in reducing to the minimum the need for interventions on my part.
There were some rough times, too. Just consider the force of change in the WordPress ecosystem in the past 8 years we had to keep up with. The company has grown immensely, too. As Mihai puts it, "Freshome has grown at a high level because it had access to people with high-level know-how."
#Their Success is Our Success
On February 2016, Soda.com has acquired Freshome for a beautifully undisclosed sum. A few months later, Soda.com and its portfolio gets acquired by Red Ventures, multi-billion-dollar investment fund fostering digital companies, thus integrating Freshome in new plans headed for global success. The best part for us was that both of the new owners and have decided to continue using our managed WordPress hosting platform.
We asked Mihai Micle to mention the top three reasons which sealed the deal for 8 years of collaboration that still continues today and here's what he told us:
Well-timed support

high-quality services and more than that, a flexibility which was critical to such a time-sensitive businesses

100% reliability

a strong infrastructure allowing zero downtime and lifetime security, backed by a great sense of accuracy, as our team had the top-notch know-how

Human touch

we were the right partners to develop a business together, as our team was made up of people that were really connected and invested generous efforts in their work.
We're truly grateful for having this journey together. It was an outgrowing experience for us, as well, and if it is for one thing that we're most proud of, that would be the trust we've earned over the past seven years. We became business partners, an extended, knowledgeable team, and true friends.
Smart Managed WordPress Hosting
Presslabs provides high-performance hosting and business intelligence for the WordPress sites you care about.