How to
7 Best WordPress Photo Gallery Plugins: Free and Paid
WordPress is the world's most popular website builder and content management system. It's also ​really ​old, having been made as early as 2003. Being so ancient, WordPress looks plain and dated with its default settings. Fortunately, the Internet has tens (if not hundreds) of thousands of themes and plugins that can add all kinds of visual elements and features to a WordPress installation.
One of the most important additions to a WordPress setup is the image gallery. The specific one you choose has implications for your website's SEO performance, user experience, and other important factors like load speed and time to first byte. In this article, we'll go over the 7 best WordPress photo gallery plugins for 2019, right after explaining what matters when it comes to choosing one that's right for you.
Image galleries may all ultimately do the same thing, but they're certainly not all created equally. Some are better, some are worse, and most are good for some websites and not so much for others. Here are the 3 factors you should look into when making a decision after reading this article:
#Features
The best gallery plugin in the world won't get the job done if it doesn't have the specific features you need. To that end, pay close attention to the capabilities that each plugin on the list below offers. This is doubly true if you're thinking of buying a paid, premium plugin. The last thing you want to end up with is something you can't use.
#Ease of Use
How easy is a plugin to use for you and your website visitors? A plugin that's difficult to configure will slow you down and make every gallery a pain to set up. A plugin that's difficult to browse will discourage users from viewing your website and have them looking elsewhere. Look for something that's intuitive to work with ​and ​view.
#Speed
The way a gallery plugin compresses and relays data can make a great difference to how quickly images load. Visitors hate it when pages take ​longer than a few seconds to load​, so it's important your plugin is snappy.
#The Best WordPress Photo Gallery Plugins for 2019
The bad news is that finding plugins that do well across all 3 categories is tough. The good news is that we found some that do. Here are the 7 best WordPress photo gallery plugins:
#1. Unite Gallery​ (Premium)
First on our list is the premium version of the Unite Gallery plugin. Don't confuse it with the free version; it's significantly more advanced. What we liked best was the vast number of customization options. There are 10 different layouts and 120+ gallery options to choose from here, meaning you can personalize the appearance and feature set of your gallery easily. There's a Video Gallery theme that comes with 3 different skins if you want to show users recordings in addition to images. All of this is outstanding.
Given how advanced Unite Gallery is in terms of appearance and customization, we were surprised to find out it's also easy to use. The WordPress gallery manager is powerful and intuitive to the point that even an intermediate-level Internet user can figure it out easily. The galleries themselves are easy to configure from the back-end with 5 simple buttons: Edit gallery, Edit settings, Delete, Duplicate, and Preview. Given all of the above and the low price point—just $19 for a Regular License with 6 months of updates and support—this is our favorite WordPress gallery software for 2019.
#2. Modula Image Gallery ​(from $29)
Modula is an image gallery that works differently from most others on the market. Unlike other plugins where you have to create a gallery then preview it, Modula comes with a cool drag-and-drop interface that makes it easy to create the exact gallery you want. Advanced users can enjoy CSS customization features if they want to get fancy, but by default, anyone can figure Modula out quickly and easily. Once you're done creating a gallery, you can use a simple shortcode snippet to deploy it on any post or page in your WordPress installation.
In addition to being easy to use, Modula is also visually versatile. You can choose a number of filters and effects, including hover-over effects, to change the way images appear. You can choose to randomize images. Even the slider is easy to customize for vertical and horizontal scrolling. Throw in social media integration, and you've got a gallery plugin that's perfect for anyone who wants a clean, modern look. The cost is fair; $29 for a simple lifetime subscription and well in the price range of most site owners and developers.
#3. Envira Gallery
Envira Gallery is a more advanced option for people who want to be in full control of their on-site galleries. It was built by the same team that developed OptinMonster, so right off the bat, you know this is going to be a special gallery and it doesn't disappoint. First of all, it's extremely ​lightweight, even compared to our previous two entries. This is true for desktops, mobile, and tablets; the plugin is responsive, meaning it changes size to fit your device no matter where you're accessing it from.
Envira Gallery is also strong on ease of use. Photos are easy to upload, there's a drag-and-drop interface for re-ordering them, and you can even move galleries between sites with a one-click import/export button. Styling is easy to customize too, even if you're no WordPress expert. Something that we thought was pretty cool is how Envira Gallery allows for SEO optimization with pagination and deep-linking. If you need your galleries to contribute to your SERP rankings, this service just might be the one for you.
Last but not least, there's one thing we have mixed feelings about. Envira Gallery offers 3 separate licenses, and some of the features are only available if you get the more expensive ones, priced $69 and $99. One feature is the ability to customize your gallery with themes. Another is a "Pin It" button for Pinterest. A third is the ability to give your users full-screen experiences. Even the SEO features we mentioned above are restricted to these more expensive licenses. While you do get a lot of cool stuff when upgrading, we sure wish that limited versions of these same features were available no matter how much you're paying. That, however, is the only blemish on Envira Gallery's otherwise stellar record.
#4. FooGallery
FooGallery is the first completely free plugin on our list. If you've been using WordPress for a while, you might know its creators' previous project; FooBox. FooGallery is a little different from the entries above it in that it's a modular product. Rather than being a stand-alone plugin, it was made to be customized with extensions made by developers. Some of these extensions are paid, but many top ones are free. The result is that you get a kind of DIY, build-it-yourself plugin with a lot of spare parts to tool around with. Depending on how advanced your WordPress skills are and how much control you want to have over your gallery, this can be a good or a bad thing but we found it to be a big advantage.
The first great thing is that FooGallery's modular nature makes it extremely lightweight and quick to load. In our speed tests, it consistently placed in the top 2 (all other factors being equal). The second cool thing is that you don't ​have​ to add any extensions. FooGallery comes with 5 themes that are easy to customize with different margin sizes, captions, images, border colors, and thumbnail sizes. The best part, though, is the wide range of extensions. These make it possible to add affiliate links to your gallery images, brand your galleries with a custom logo, and more. All of this makes FooGallery an outstanding choice for anyone who wants a flexible, modular gallery plugin in 2019.
#​5. Awesome Gallery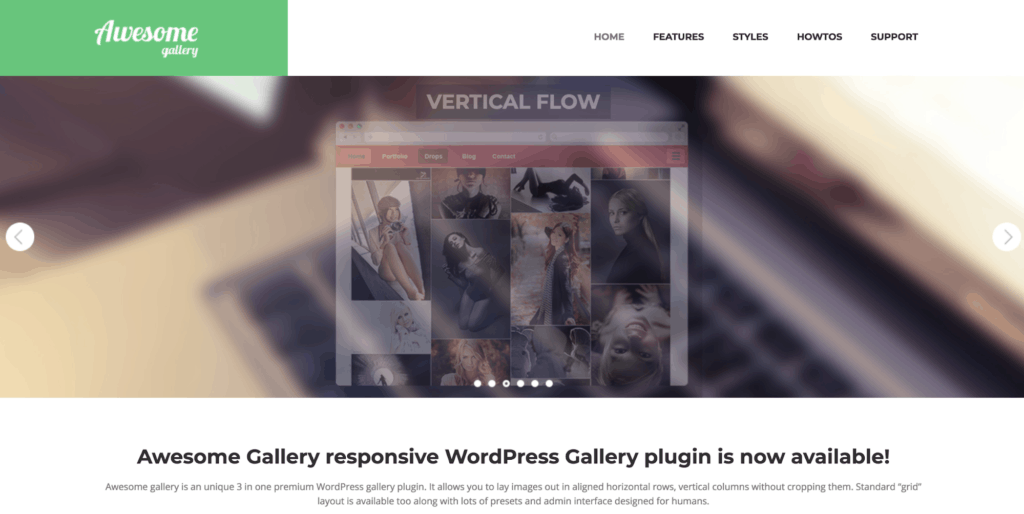 An old adage tells us that a rose by any other name still smells as sweet, but Awesome Gallery's name is just right. The gallery really ​is ​awesome. It's a little simpler than some of the above options, with fewer options and customization settings, but here's why we love it. First, it comes with 3 straightforward grid styles: grid, horizontal flow, and vertical flow. The first of these is versatile and flexible, while the other two have specific purposes. The horizontal flow is excellent for landscape images while the vertical flow works for galleries featuring tall images (e.g. portraits, fashion shoot samples, etc). All 3 options are very easy to configure and stylish to boot, which makes Awesome Gallery an excellent all-around choice for all use cases.
Don't think this app is all about ease of use, though. It has some cool, unique features that make it stand out in other areas. For example, it's lightweight and loads quickly on both mobile and desktop devices. It also uses image caching and lazy loading to speed up load times which makes speed even more of a strong point here. Last but not least, the plugin is easy to integrate with CDNs, which makes it a perfect choice. Throw in the ability to import images directly from Flickr, WooCommerce, and other platforms, and you've got a zappy, convenient, stylish image gallery plugin we love.
#6. Justified Image Grid
Justified Image Grid solves a major problem: awkwardly sized photos and ugly cropping. To understand what we mean, consider the following. Most photographs are sized in a wide variety of ways. In order for them to fit into a gallery, they need to be either resized or cropped. If an image gallery uses resizing, this can create a lot of unwanted white space between images. If cropping is the solution, images can be off-center or unattractive. Either way, results are often sub-par but this isn't the case with Justified Image Grid. With this plugin, you get to customize how your images appear. With over 340 customization options and 20 templates, you can create beautiful galleries no matter the images you've got on hand.
Outside core features, we liked two things about this plugin. First, it lets you import images directly from Facebook, Instagram, Flickr, and other platforms. The same applies to YouTube and Vimeo for videos. Second, it's very fast which means better experiences and better SEO for you. All in all, a top-7 finish feels fair for this app.
#7. NextGEN Gallery
NextGEN gallery is the most popular WordPress gallery plugin in the world. It's free by default, but there's also a paid version if you want to expand the number of features you have access to. The free version gives you two gallery display styles and two album styles. It also lets you batch-upload images, which many WordPress plugins don't, and imports the metadata from your photos. Once you've uploaded everything, you can arrange images into slideshows, albums, and galleries any way you like.
Something we really liked about NextGEN is how well it works for photographers and entrepreneurs. The premium versions include features like image protection. The plugin itself is optimized for e-commerce, whether as a freelancer or a retail business, with features like Stripe and PayPal integration, tax documents, and price lists. The one thing we weren't crazy about is how big NextGen gallery is once you install it on your website.
The plugin can take a while to load if you don't configure it properly. What's more, configuring it properly isn't necessarily easy because there's no drag-and-drop interface and the setting screen isn't intuitive.
NextGEN also creates separate tables in the database and it stores the images and galleries outside of the WordPress structure, which means that instead of storing them in /wp-content/uploads/, it stores them in /wp-content/gallery/. This somehow bounds you to this plugin, which means that once you start using it, it becomes quite difficult to use another image gallery plugin from that moment on. Also, most of the operations it does are outside of the standard WordPress ones.
#Conclusion
Now you know which WordPress plugins are best for showcasing images with beautiful galleries. Just remember: there's no "best-in-class" plugin here. Be mindful of each plugin's specific feature set, as well as its speed and ease of use.
Most importantly, remember that ​you​ need to like the plugin you choose. When in doubt, trust your intuition when deciding on a product.
Smart Managed WordPress Hosting
Presslabs provides high-performance hosting and business intelligence for the WordPress sites you care about.