News
Presslabs Doubles Network Reach to 6 Continents for Global Publishing Equity
WordPress publishing is complicated enough without having to worry about hosting infrastructure. That's why at Presslabs, we are doubling down on our commitment to alleviate this major pain point by greatly expanding our server network.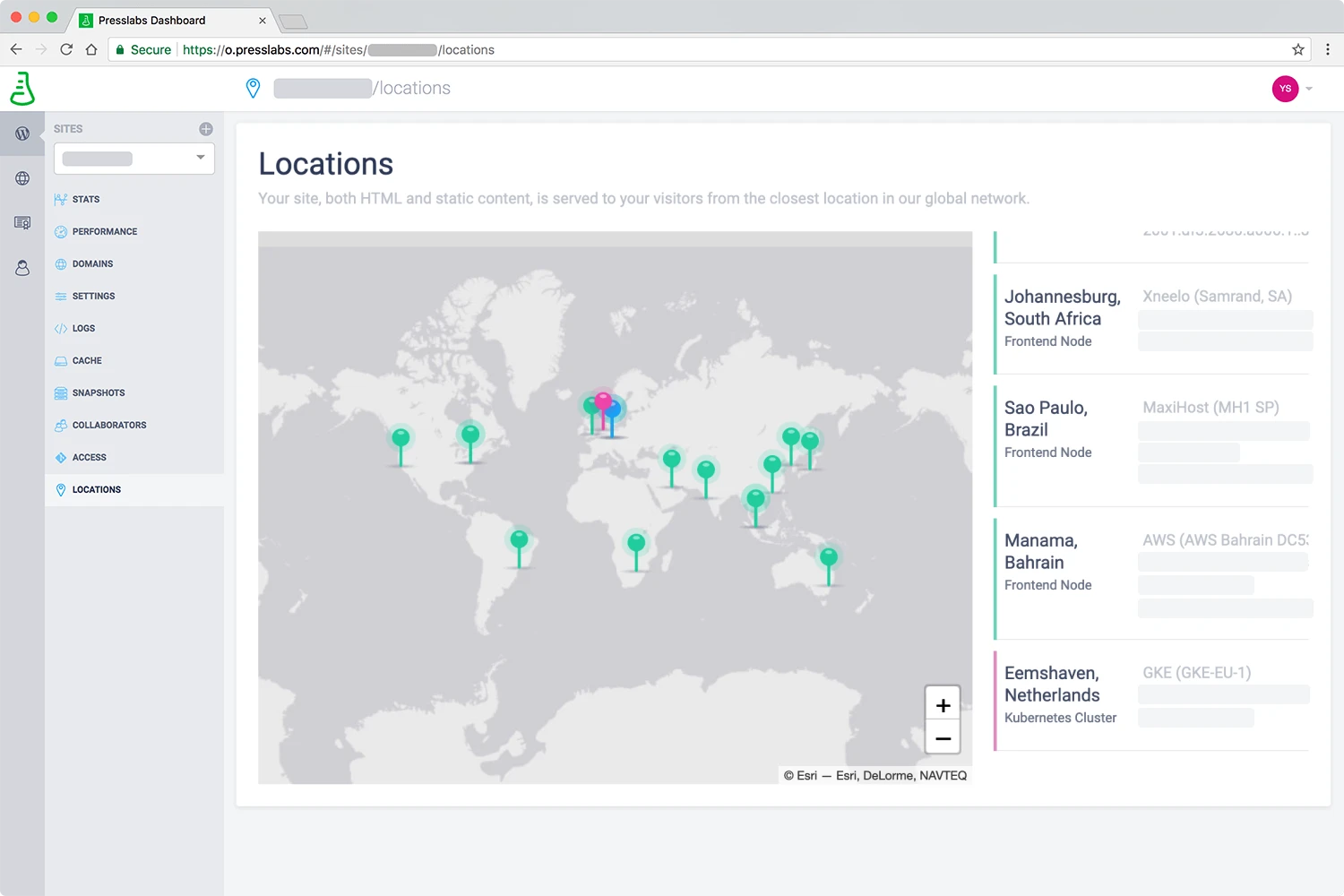 Now, Presslabs clients will have unprecedented facility to achieve truly global reach, with data centers providing geo serving opportunities in 13 locations across six continents. This represents a doubling of our distributed network of frontend servers in just three years.
With these expanded points of presence (PoP), we are able to offer lightning-fast response times with global TTL averaging ~60ms, robust failover, higher crawl rates, and improved SERP results.
Coupled with our Kubernetes-based backend infrastructure, clients can hyper-focus their efforts on solving unique business problems, leaving the technical complexity of turnkey scaling to Presslabs.
#Presslabs Hosting Server Locations
As of 2022, we have augmented the reach of our server network to include:
Asia – Singapore, Hong Kong, Tokyo (Japan), Seoul (South Korea), Mumbai (India)
Middle East – Manama (Bahrain)
Europe – London (UK), Frankfurt (Germany)
North America – Manassas (E. Coast USA), San Jose (W. Coast USA)
South America – São Paulo (Brazil)
Africa – Johannesburg (South Africa)
Oceania – Sydney (Australia)
#How Publishers Benefit
The implications for Presslabs' server rollout are massive. Our robust frontend and CDN network offers enhanced performance to more end-users around the world.
#Speed
Recent performance reports post lightning-fast global benchmarks:
Time to first byte (TTFB) averaging ~60ms
Round-trip time (RTT) averaging <9ms
Largest contentful paint (LCP) averaging ~450ms
Of course, it's not exactly news that Google prioritizes speed – consumer thirst for an ever richer user experience (and the data intensity that goes with it) continues to skyrocket. Thus, we prioritize site speed as paramount to maintaining our publishers' competitive edge.
#Stability
In addition to speed, broader network coverage also reinforces site uptime. In case of an outage at a given data center, our other PoPs can continue to seamlessly serve requests made by your WordPress site readers.
The more servers available, the greater the redundancy baked into Presslabs' default failover mechanism. As we continue to push for more equitable global access to high-quality hosting for our clientele, this solid foundation of reliability will only strengthen.
#Scalability
With our move to a Kubernetes-based backend, we've offloaded much of the burden traditionally borne by our frontend layer. Thus, publisher pages hosted on Presslabs servers are able to handle millions of page views per hour.
Even sites with intensive eCommerce functionality, user-driven content, or uncached tasks are no problem for Presslabs' network. In fact, our busiest month so far saw 2.2 billion page views, with 100% uptime and optimal load times–and that was before the effective doubling of our network.
#Conclusion
Our unified server network is now more robust than ever, offering truly global reach to WordPress publishers. No matter what your business model or where your market may be, Presslabs offers the hosting solutions and friendly support you need to scale.
Whether your needs are developing or you're already pushing the boundaries of enterprise-scale publishing, Presslabs is here to help with Personal, Publisher, Agency, or Enterprise plans.
Let us remove the hassle of hosting complexity, empowering you to focus on core deliverables.
Smart Managed WordPress Hosting
Presslabs provides high-performance hosting and business intelligence for the WordPress sites you care about.